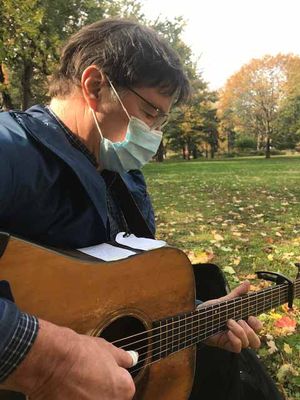 Stay tuned for new music in December
Despite the coronavirus, the beat goes on.  
Dave's long-awaited third CD, The Healing Garden, is nearing completion. It's now at the manufacturing plant, meaning that barring extraordinary circumstances (even more extraordinary than a global pandemic), it will be in our hands in the first week of December.  
The album features 12 new instrumentals that tell the story of his journey to the West Coast and back to Montreal, and his close encounter with cancer.  
We're very excited about the release. In the meantime, this photograph shows Dave playing a socially distanced concert for his mother in the Peace Park at Montreal's Dawson College in late October.
Stay tuned for more details.